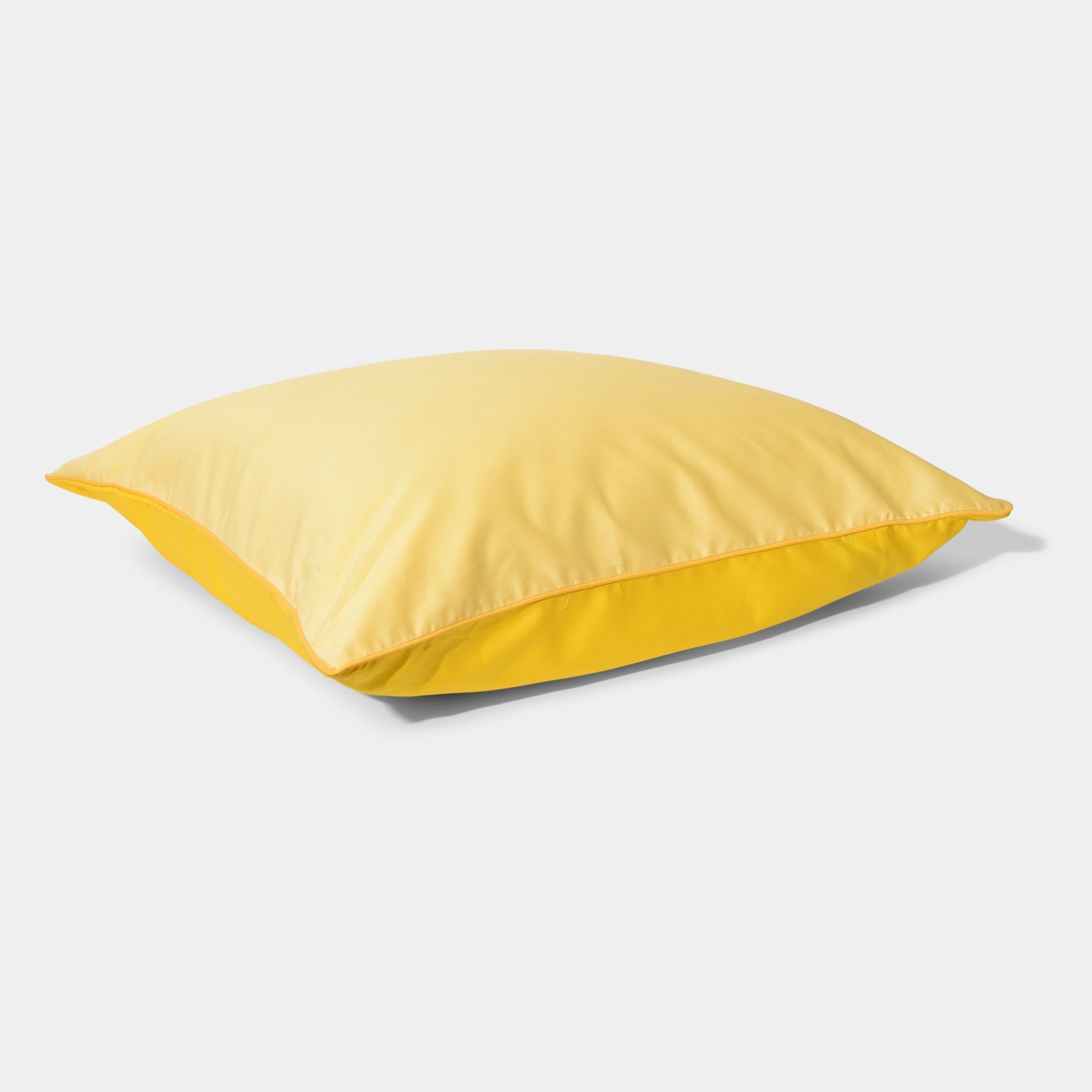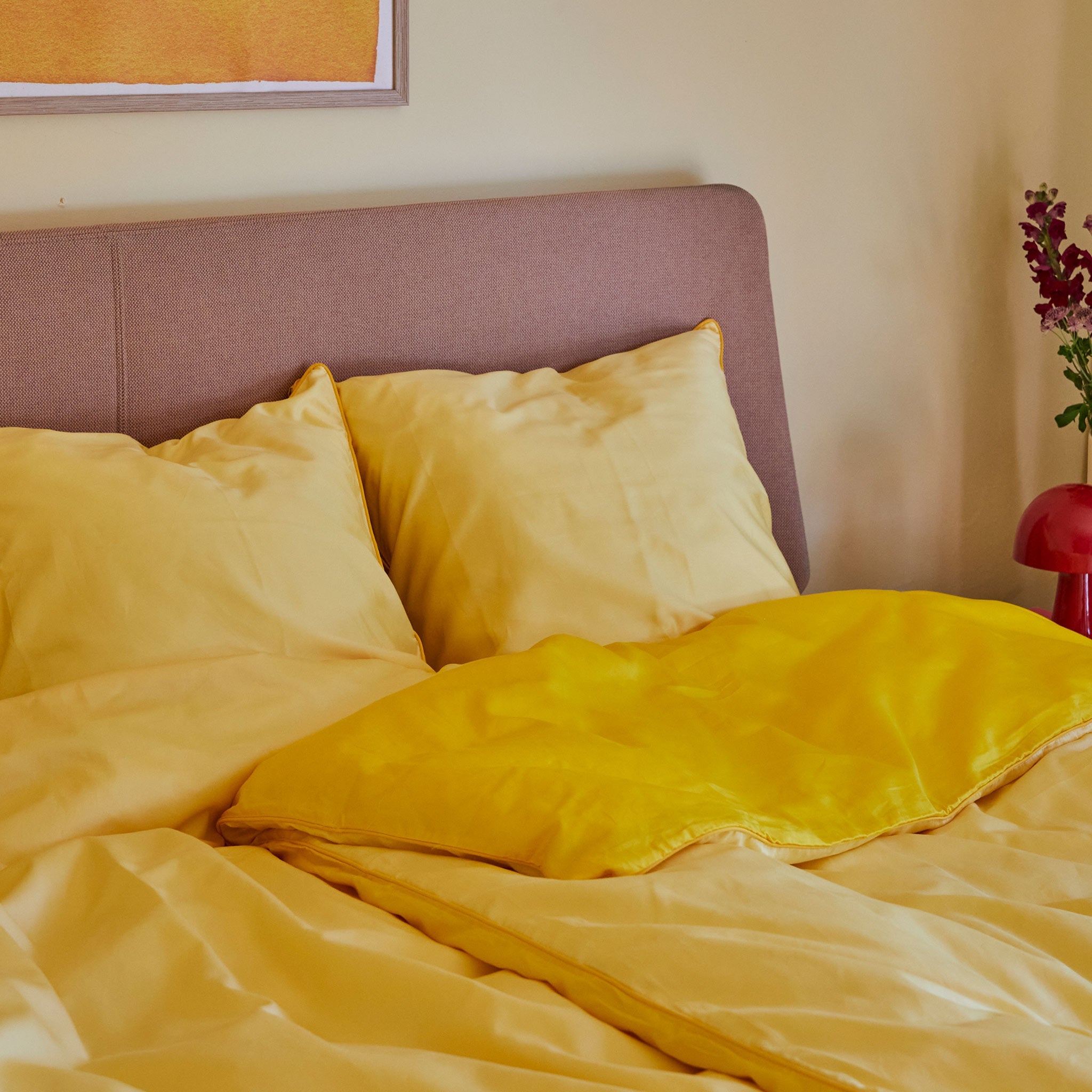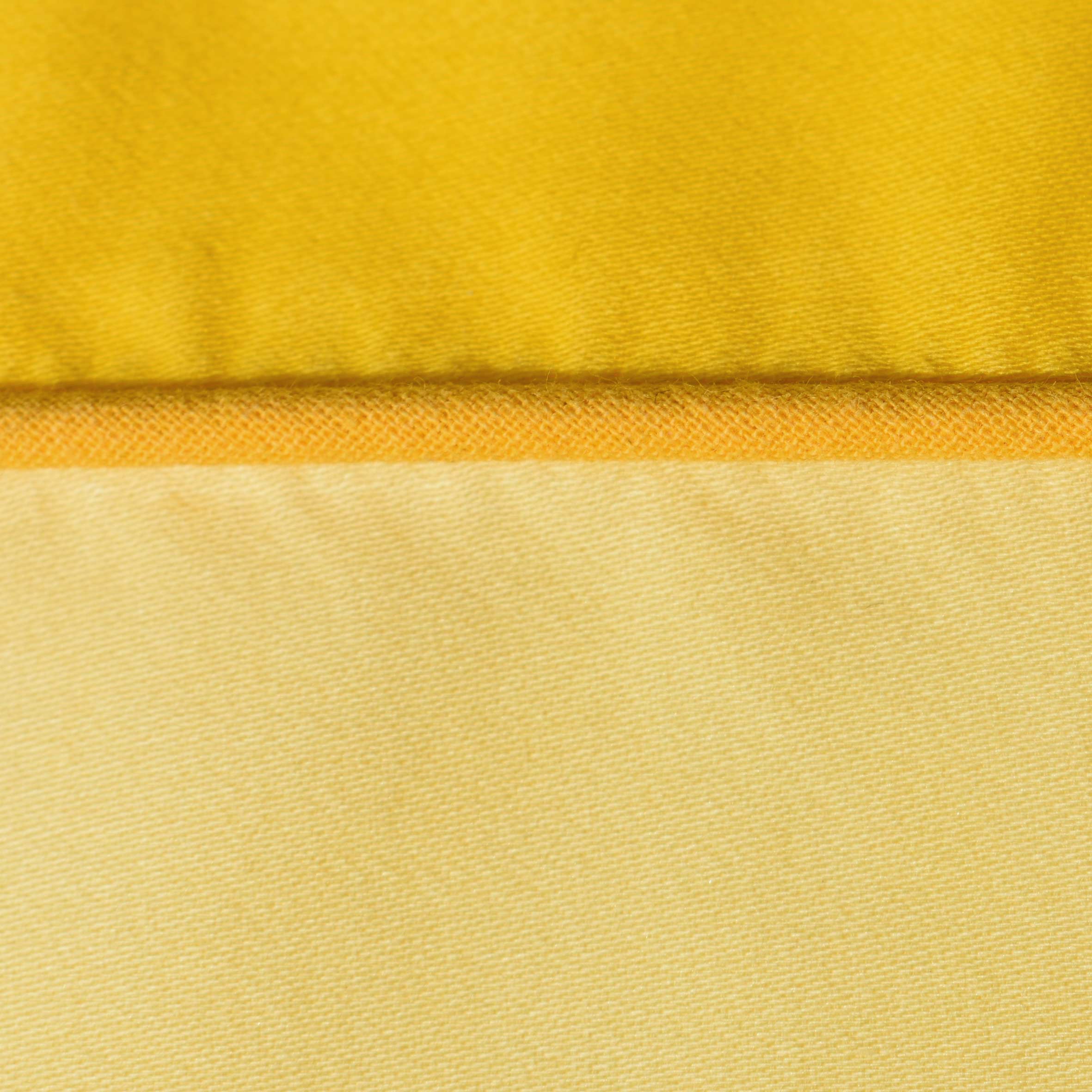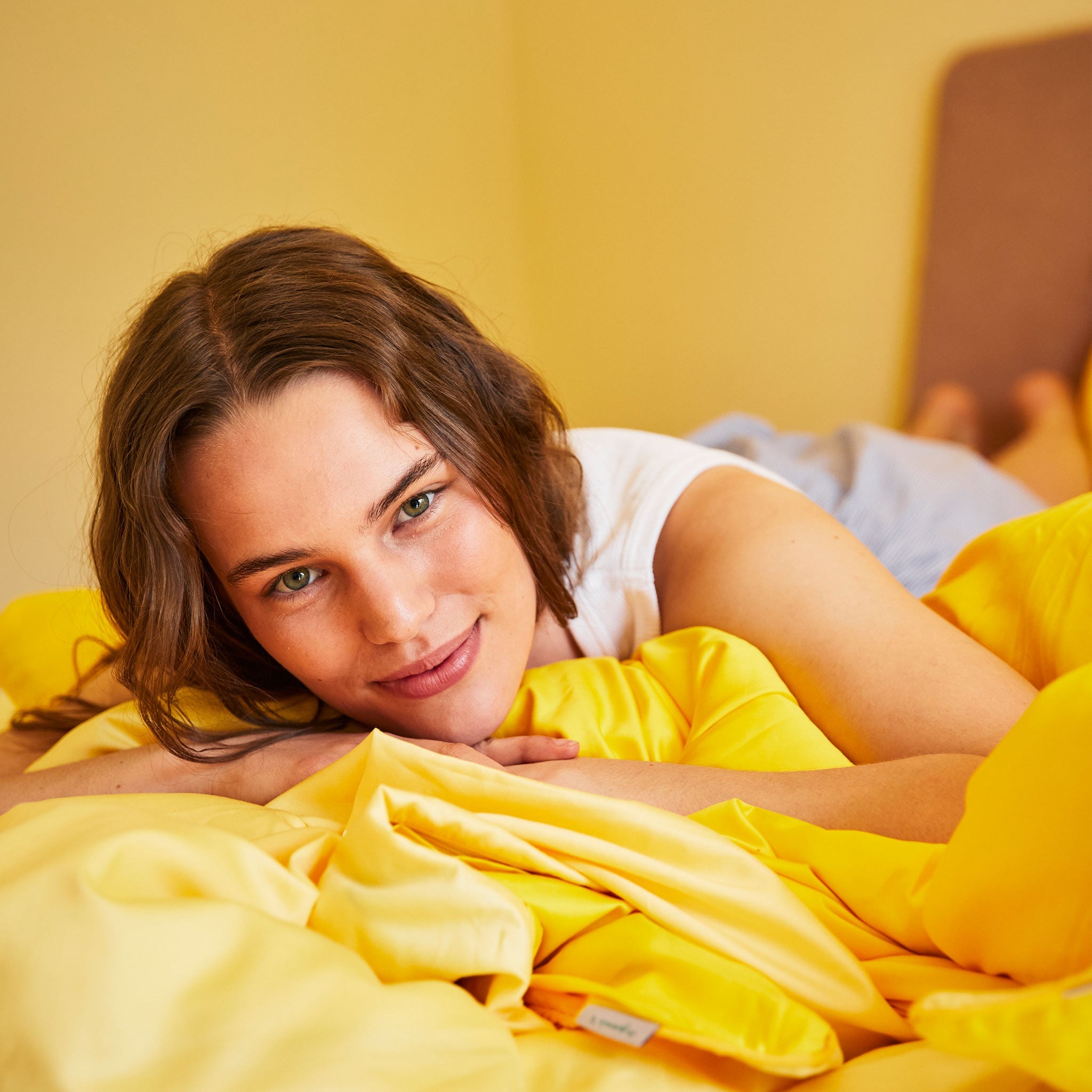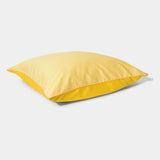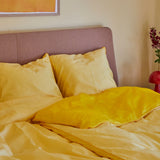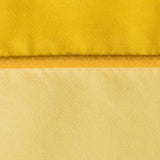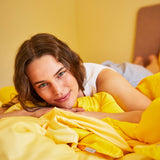 Cotton sateen pillowcase - Yellow
Introducing our Luxurious Yellow GOTS Certified Organic Cotton Sateen Bed Linen, a true embodiment of elegance and comfort. This exquisite bedding boasts a reversible design, showcasing two stunning shades of yellow complemented by a deep yellow piping detail.
Crafted with GOTS certified organic cotton, our bedding is not only a treat for the eyes but also a delight for your skin. The fabric is remarkably soft, offering a cool and silky sensation at every touch. With a finely woven 400 thread count and long cotton fibers, this bedding only gets softer and more inviting with time, making it a long-lasting addition to your bedroom.
This is a product designed to stand the test of time, a cherished possession you'll want to keep for years to come. What's more, our bedding is manufactured in Portugal, where a renowned factory has been spinning and producing bed linen since the 18th century, ensuring top-notch quality.
Both the duvet cover and pillowcase are equipped with hidden zippers, adding a touch of convenience and sophistication to your bedding experience. Elevate your sleep with our Luxurious Yellow GOTS Certified Organic Cotton Sateen Bed Linen and embrace the ultimate blend of luxury and sustainability for your bedroom.
---
Designed in Copenhagen, produced in Portugal
Free shipping over 349 DKK
---
Contact us at info@homehagen.com or give us a call at +45 30 45 60 45.
Wash and care

Wash at lower temperatures


Thanks to modern washing machines and detergents, you no longer need to boil your laundry. A lower temperature still gets the job done while taking care of the environment. We're not saying you should always wash your bedding at 40°C, but this will be just fine for most of your washes.

Use green products

Choose an eco-friendly detergent and don't use too much of it. Using too much detergent won't make your laundry any cleaner. Fabric softeners are popular, but be aware that chemical softeners can damage both your laundry and the environment. We recommend using organic fabric softeners.

Skip the tumble dryer

Skipping the tumble dryer is probably the most significant choice for the sake of the environment and to keep your clothes in good shape. Air drying is always the best option. But make sure to dry your clothes immediately, do not leave wet laundry in the machine, as it will unnecessarily wrinkle the clothes and could potentially lead to mold.

Ironing

When ironing cotton products, we recommend using a damp function or the steam setting on your iron. Giving the cotton a bit of moisture before ironing will smooth out the fibers, and the laundry will become smoother more quickly.
Materials and origin

At the heart of Portugal, where textile traditions date back to the 18th century, is where Homehagen's roots lie. With an uncompromising dedication to quality, we select only the finest materials. Each pillowcase is finished with a discreet zipper, where elegance meets functionality. Designed in Copenhagen, created in Portugal - a perfect fusion of Scandinavian minimalism and Portuguese craftsmanship tradition.
Shipping and returns

You have the following delivery options in Denmark:


We offer free shipping over 349 DKK to the nearest parcel shop.
If you shop for under 349 DKK, we offer the following prices:
GLS Business - 40 DKK
GLS Parcel Shop - 40 DKK
GLS Private Delivery 40 DKK
Post Nord Business - 40 DKK
Post Nord Parcel Shop - 40 DKK
Post Nord Private Delivery - 40 DKK



Delivery


We do our very best to ensure that you receive exactly what you have ordered, and that it arrives safely at your destination. However, we are only human, and sometimes mistakes can happen, just as our packages sometimes get quite rough handling along the way. If you find that what you have ordered does not correspond with what you have received, please send us an email at info@homehagen.com no later than 2 days after you have received your order. The same applies if your goods have been damaged during shipping. We will then, of course, make sure that you are compensated as quickly as possible.



European and International delivery options


We are also happy to deliver orders to the rest of Europe and the World (with a few exceptions).
The price for delivery depends on the delivery address, country, and shipping method.
The price is provided at the time of ordering before payment - and starts at 100 DKK.
Delivery time in Europe is typically between 2-5 business days.
Delivery time to the rest of the world is 4-7 business days. However, express shipments are delivered a few days faster.


Can one pre-order an item?


Popular items are sometimes placed on the shop for pre-order and can be found in the 'New' category. If you choose to place a pre-order, we do not withdraw your money until the item is dispatched (please note that you should choose to pay with a Visa/Dankort). If you order several items together, they will not be sent until all items are in stock. If you want the items sent immediately, we recommend that you place two separate orders.
Frequently asked questions

What is the thread count of your products, and why is it important?

The thread count refers to the number of threads per square inch of fabric. Our products have a thread density of 300. A higher thread count often indicates a smoother and more durable fabric, but it is not the only indicator of quality. Other factors, such as the quality of the fibers used, also play a significant role in the feel and durability. We only use the best long-staple cotton, which feels smooth and is durable at the same time. This makes the product only softer over time.

What materials are your products made of, and are they environmentally friendly?

Our bedding products are made of organic cotton & 100% linen. We prioritize sustainability and environmental friendliness by using organic and responsibly sourced materials whenever possible. We are dedicated to reducing our environmental footprint and ensuring that our bedding products meet eco-friendly standards and are good for you and the planet.

How do I best take care of my new products?

Generally, we recommend washing for the first time at 40 degrees with a mild detergent and following the provided washing instructions. Avoid harsh chemicals and high heat to extend the life of your new bedding. After the first wash at 40 degrees, it is fine to wash at 60 degrees.

What is the difference between percale and sateen sheets, and which should I choose?

Percale sheets provide a cool feel and are more breathable, while sateen sheets have a smoother, silk-like finish and are generally a bit warmer. The choice between percale and sateen depends on your personal preferences. If you like a matte finish, you should choose percale. If, on the other hand, you prefer a soft and more silk-like feel of the product, you should choose sateen.

Do you offer a warranty or satisfaction guarantee for your products?

Yes, we offer a 2-year warranty on all our products, and we stand by their quality. If for any reason you are not satisfied with your purchase, please contact our customer service who will help you further.

Will the material shrink?

The material is prewashed, so any potential shrinkage is minimal. But if you tumble dry, especially at high heat, you can expect some shrinkage, but it will not affect the fit of the product.

What is the return and exchange policy for your products?

Our return and exchange policy is valid within 14 days after you have made your purchase. We want our customers to be satisfied with their purchase, therefore we always offer free returns.

Are your bedding products hypoallergenic or suitable for people with allergies?

Our products are made from hypoallergenic materials, making them suitable for people with allergies. However, individual sensitivities vary, so it's always a good idea to test the product before use to ensure that there is no allergic reaction.

Are your bedding products breathable?

Yes, the products are breathable. We exclusively use 100% organic, GOTS-certified cotton or linen, manufactured without the use of chemicals or other fabric treatments.

What type of closure do you use for your bedding products?

We use a high-quality zipper for both duvet covers and pillowcases. The zippers are specially made for the bedding and are therefore developed to withstand heavy washing and drying. If you experience problems with the zippers, we will replace the product without question.
Reviews
4,9 out of 5 stars on Trustpilot
"Great service, fast delivery, and the most amazing products in quality, aesthetics, and in use. I increasingly only use bedding from Homehagen, and it delights both my mind and my body."
"Extremely satisfied. I've never had more comfortable bedding. I would definitely recommend them, both for the quality of their products and for their excellent service."